Our local Northwest Indiana Padgett office is owned and operated by Danielle Heskett.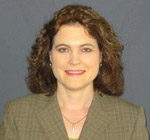 Danielle has been a CPA for over 20 years and has many years of experience in accounting, tax and related fields. Danielle is a graduate of Ohio University with degrees in both Accounting and Pre-Law. She graduated with top honors, ranking in the top 2% of the class. Danielle also has an MBA from the Weatherhead School of Management at Case Western Reserve University in Cleveland. She graduated with a 4.0, receiving top honors. Danielle's broad experience includes work in public accounting for Ernst & Young, internal audit with Borden Foods International and as a business analyst at Key Bank. She has extensive training in taxation as well and has been preparing returns for years. Recently, Danielle spent two years at Northwestern University completing coursework for the Certified Financial Planner training program. She passed the Certified Financial Planner exam in 2008.
Danielle is a member of many business and professional organizations, including the Indiana CPA Society, the American Institute of Public Accountants, the National Society of Accountants, Ernst & Young Alumni Association and Valparaiso Referral Network.
Danielle lives in Valparaiso, Indiana with her husband John and their son, Zachary. They also have two older sons who both graduated from Valparasio High School. One is currently attending Purdue University and the other lives and works in California. In their free time the Hesketts enjoy spending time with their friends and family, exercising at the local YMCA, and enjoying Lake Michigan and the great parks in Northwest Indiana.